Plastic Pollution in Urban Coastal Rivers
Overview
Plastic pollution is a major threat to global water resources with implications for the environment, economy, and public health. Rivers play a key role in this emerging environmental issue, carrying material released in the terrestrial environment to the coast. Coastal urban rivers are focal points for intervention to reduce and prevent plastic from entering marine systems.
The objective of this research is to identify spatial and temporal patterns of plastic pollution from urban watersheds into rivers and the transport pathways to the ocean. We are specifically interested in the relationship between watershed characteristics and plastic quantities, the effect of particle properties and hydrodynamics on plastic distribution within the river, and seasonal and flow-driven patterns.
Field Study in the Hillsborough River, Tampa, Florida
We started the monthly field data collection in May 2018 at three strategic sites in the Hillsborough River, representing distinct degrees of flow accumulation and increasing urbanization. Stationary sampling is conducted using a neuston net with 500 µm mesh size, collecting samples at different positions in the cross-section. An Acoustic Doppler Current Profiler (ADCP) is used to create corresponding flow and discharge profiles. Samples are processed through laboratory and spectroscopy analysis.
Field Study in the Mekong river floodplain, Phnom Penh, Cambodia
Supported through the CUAHSI Pathfinder Fellowship, we will conduct a seasonal field data collection and assessment of plastic debris in the Mekong and Tonle Sap rivers confluence in Phnom Penh, the capital of Cambodia. This will be the first dataset that describes plastic loads in the Mekong River and the pollution caused by the city Phnom Penh. Results will be compared to findings for Tampa, using the sample collection and analysis methodology I have tested in the Hillsborough River.
See here more pictures from our field work in the Hillsborough River: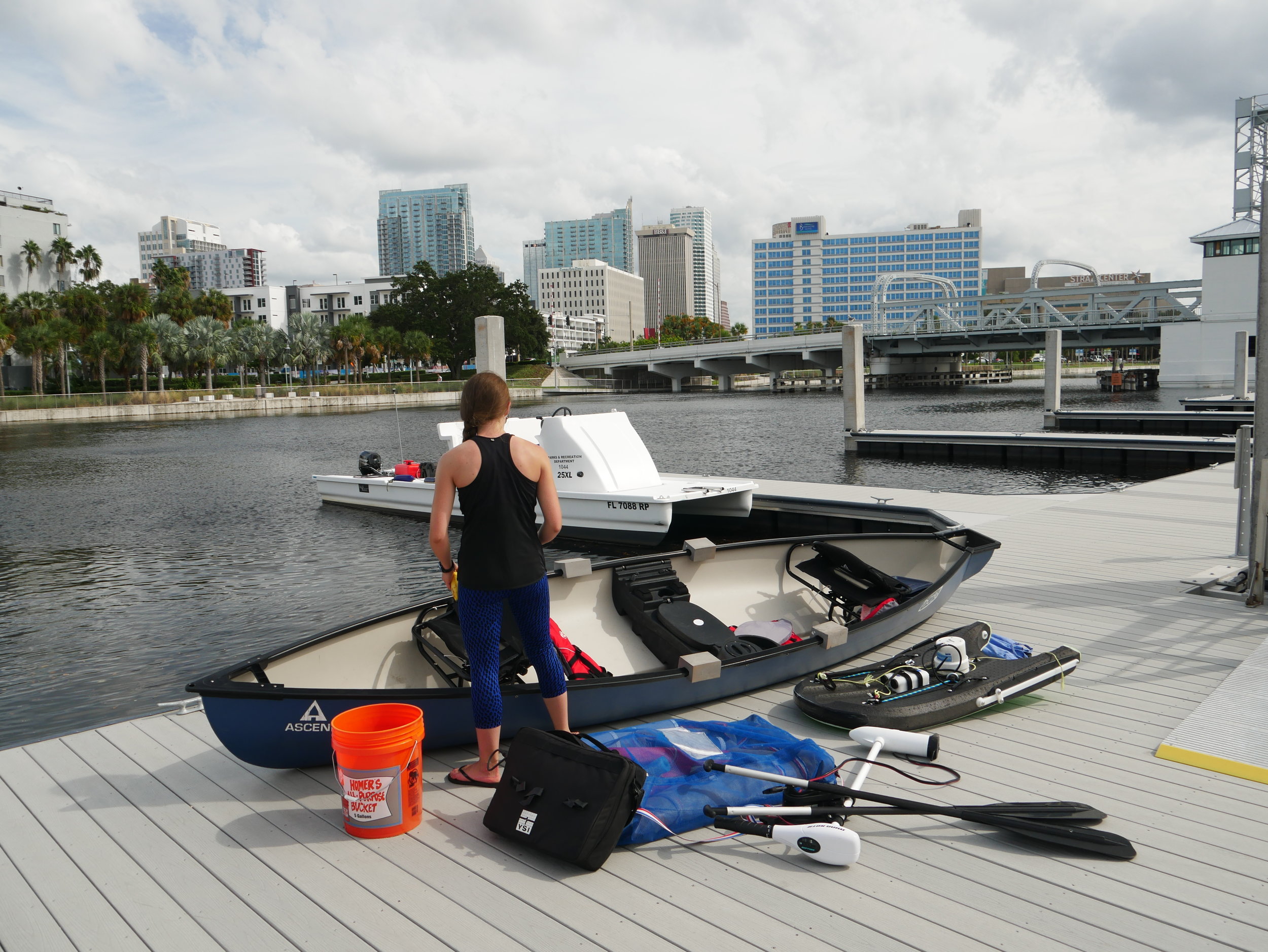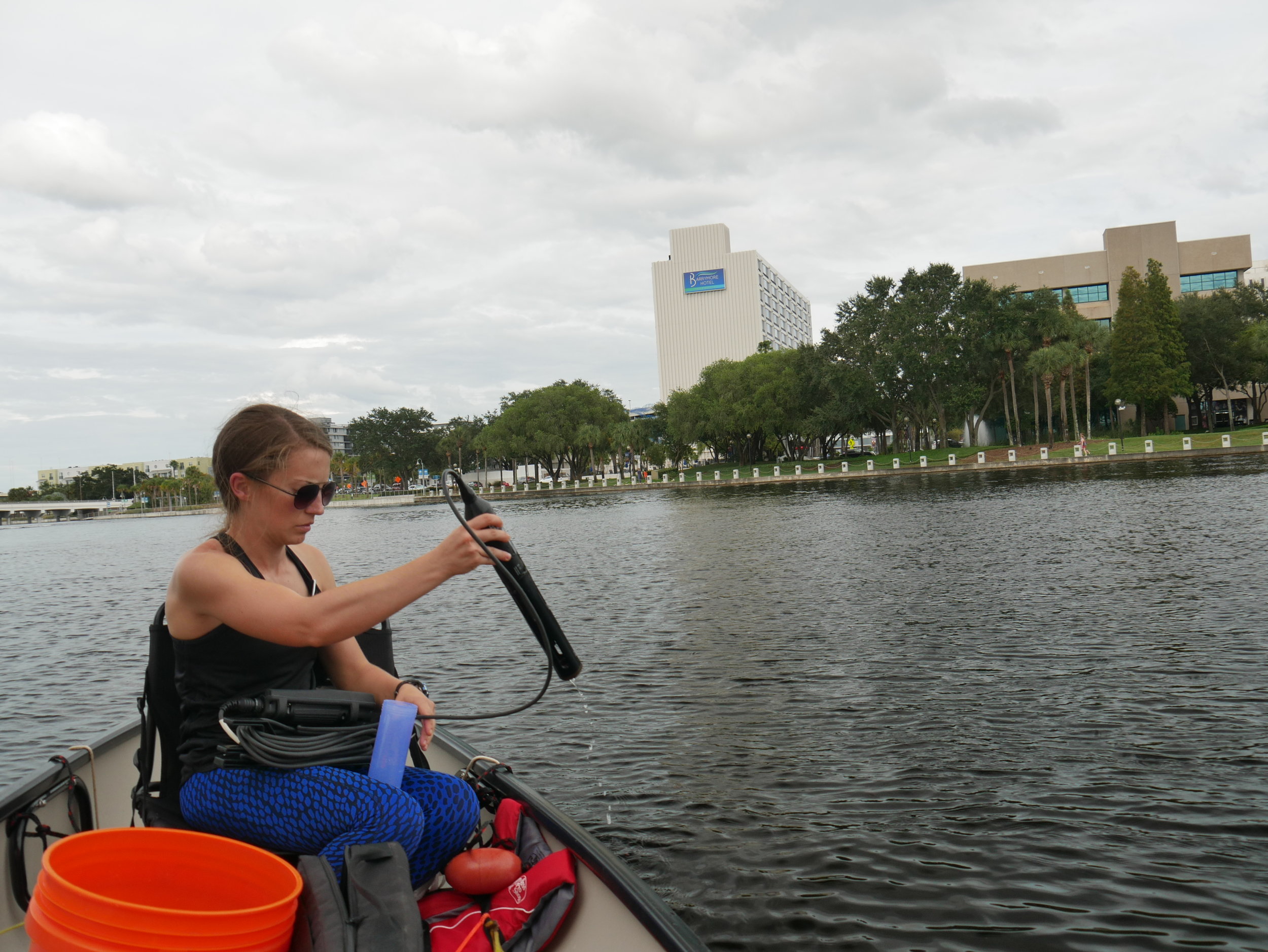 Acknowledgements
This PhD research is conducted with the help of many people and institutions which is highly appreciated. Funding was and is provided by the University of South Florida as well as through the CUAHSI (Pathfinder Fellowship) and the Florida Stormwater Association (FSA Educational Foundation Scholarship).
The PhD committee (Dr. Mahmood Nachabe, Dr. Amy Stuart and Dr. Mike Wang from USF and Dr. Amy Siuda from Eckerd College) as well as Dr. David Hastings, Dr. Denis Karaiskaj, and Dr. Robert Hyde have given great input and support. Dr. Chantha Oeurng (Institute of Technology of Cambodia) facilitates the research planned in Cambodia.
Jessica Carlee Chaffin and Ruben Palomo Martinez, our undergraduate research assistants, have a major contribution in the success of this project; the whole research group, especially Cody, Michelle and Osama, as well as numerous friends have been of really helpful as well.
The Facility for Optical Characterization of Materials (FOCM), Department of Physics, University of South Florida, Tampa, Florida provides access to an FTIR spectrometer.